Gustavo Machado BJJ Seminar at Pendergrass Academy of Martial Arts in Wake Forest, NC
On Saturday November 16th Pendergrass Academy of Martial Arts will be hosting a Brazilian Jiu Jitsu (BJJ) seminar with professor Gustavo "Guga" Machado.  Pendergrass Academy is the first official affiliate academy of Gustavo Machado Brazilian Jiu Jitsu (established in 2000) and the only affiliate academy in the state of North Carolina.  For more information about Pendergrass Academy of Martial Arts visit us at www.PendergraassAcademy.com
Facebook event page info for adults … https://www.facebook.com/Adult-Seminar
Facebook event page info for youth … https://www.facebook.com/Youth-Seminar
About Gustavo Machado
Gustavo "Guga" Machado was born on August 8, 1974 in Rio De Janeiro, Brasil.  When he was fifteen, friends such as Tinguinha, Gordinho, Soneca, Soca, the late Ryan Gracie and others encouraged Gustavo to start training in Jiu-Jitsu. He began to practice at the Oficina do Corpo Academy under Professor Jean Jaques Machado.
Gustavo was soon promoted to the rank of Blue Belt at the age of sixteen.  When Professor Jean Jaques Machado left Brazil, Gustavo began to train at the Gracie Barra Academy under Professor Carlos Gracie Jr.  Gustavo quickly became a strong competitor, winning and placing in numerous tournaments throughout his study.  At the age of nineteen, Gustavo was awarded his Purple Belt and began teaching under the authority of Professor Carlos Gracie Jr.  In 1996 Gustavo received his Brown Belt.  Two years later he began his journey to The United States to teach in Virginia.  In the year 2000, Gustavo earned his Black Belt from Roberto Correa (Gordo), a Gracie Barra Head Instructor.   Gustavo is currently a 3rd degree black belt in Brazilian Jiu Jitsu.  For more information about Gustavo visit http://www.gustavomachado.com
BJJ Technique with Gustavo Machado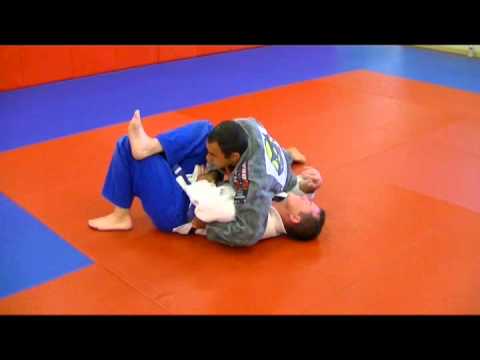 About Guy Pendergrass
Co-owner and head instructor of Pendergrass Academy of Martial Arts in Wake Forest, NC and Brazilian Jiu Jitsu Black Belt under Gustavo Machado. For more information about classes, check out our website at www.PendergrassAcademy.com or call 919-819-1908 Today and find out how you can learn Brazilian Jiu Jitsu (BJJ) and about our 30 Day Free Offer!